<!RECENT BOOK DESCRIPTIONS START>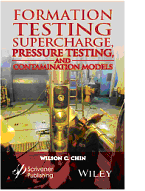 Formation Testing: Supercharge, Pressure Testing and Contamination (Wiley, 2019). The Halliburton paper, "A New Hostile Environment Wireline Formation Testing Tool: Case Study from the Gulf of Thailand," by Rourke et al., SPWLA 47th Annual Logging Symposium, Veracruz, Mexico, June 4-7, 2006, cites numerous field examples where overbalance pressures exceed 2,000 psi – not a typographical error.
Supercharging has long disrupted pressure transient interpretation in logging operations. Real-time prediction methods, e.g., Halliburton's GeoTapTM due to Proett and Chin for tight zone applications, or Chin's later "rational polynomial" approach, apply only to problems with identical initial and farfield pressures. Long wait times are typically required before high pressure borehole effects dissipate.
We've developed supercharge models with overbalanced initial pressures – plus exact analytical solutions for both forward and inverse problems. Now, accurately predict pore pressure, mobility and compressibility from any three (time, pressure) points, rapidly without waiting. What's more, we can handle inverse problems with multiple flow rates (positive or negative, in any order) for standard logging and "analyze-inject-analyze" formation treatment applications. And again, low mobility, with flowline volume distortion, rapidly without waiting. For more information, click Preface or Table of Contents.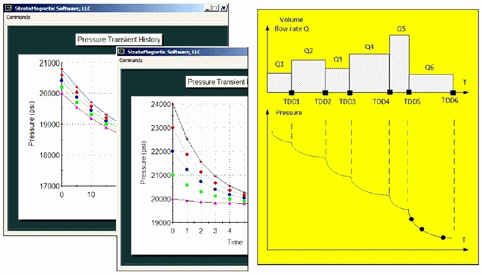 Transient responses for different overbalance pressures (left). Multirate drawdown and buildup application (right).
Read about these latest contributions soon . . . Available Q2, 2019.