<!RECENT BOOK DESCRIPTIONS START>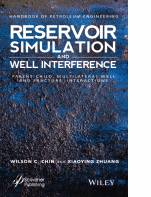 Reservoir Simulation and Well Interference: Parent-Child, Multilateral Well and Fracture Interactions (Wiley, 2020). This volume addresses the most pressing problems confronting modern oil and gas production - well spacing and topology decisions, hydraulic fracturing effects, and challenging transient, 3D real-world simulations performed rapidly using rigorous models. From the back cover . . .
Co-written by a world-renowned petroleum engineer, this breakthrough new volume teaches engineers how to configure, place and produce horizontal and multilateral wells in geologically complicated reservoirs, select optimal well spacings and fracture separations, and how to manage factors influencing well productivity using proven cost-effective and user-friendly simulation methods.
Charged in the 1990s with solving some of petroleum engineering's biggest problems that the industry deemed "unsolvable," the authors of this innovative new volume solved those problems, not just using a well-published math model, but one optimized to run rapidly, the first time, every time. This not only provides numerical output, but production curves and color pressure plots automatically. And each in a single hour of desk time.
Using their Multisim software featured in this volume, secondary school students at the Aldine Independent School District delivered professional quality simulations in a training program funded by some of the largest energy companies in the world. Think what you, as a professional engineer, could do in your daily work. Valuable with or without the software, this volume is the cutting-edge of reservoir engineering today, prefacing each chapter with a "trade journal summary" followed by hands-on details, allowing readers to replicate and extend results for their own applications. This volume covers Parent-Child, Multilateral Well and Fracture Flow Interactions, reservoir flow analysis, many other issues involving fluid flow, fracturing, and many other common "unsolvable" problems that engineers encounter every day. It is a must-have for every engineer's bookshelf.
This groundbreaking new volume: • Presents simulation, explained in simple terms, focusing on strengths in present formulation and limitations behind industry models • Introduces a reservoir simulator, developed in earlier books and used at multiple companies, incorporating "smart menus" for interactive computing requiring minimal training • Goes through six challenging problems with complicated geologies and multilateral well systems defined and solved, each in one hour of "desk time," with integrated graphics producing production histories and 3D color pressure plots • Covers pressure and rate constraints, levels and type changeable at any time, how new wells may be added, and existing wells shortened, lengthened or redirected during simulations, how multilaterals and fracture systems may assume arbitrary geometries, dozens of farfield drive models, liquids and gases supported; and, finally, program architecture that supports multiple "what if" analyses in same work session
For more information, click Preface or Table of Contents.
Read about these latest contributions soon . . . Available Q2, 2020.